Receiving a printer not activated error or the print window just hangs
How do I fix a "Printer not activated" error code 41, -20, -30 or -40 when creating a PDF?
Updated: Jan 14, 2015
Article ID: SLN50919
Check the port:
1. Exit ProFile if it is running.
2. Click START at bottom left of the screen, select "Devices and Printers"
3. From the list of printers locate "ProFile PDF Export" printer.
4. Right click on "ProFile PDF Export" printer, and select "Printer properties".
5. Select the "Ports" tab.
6. In the "Ports" tab, ensure that the Port selected is the "NUL" port, and that no other printer is sharing that port.
7. If there are any other Printers sharing this port, delete them or move them port to a different port.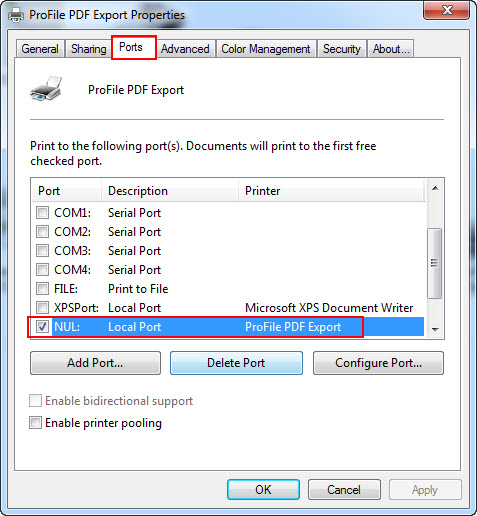 8. Re-open ProFile.
**Note: If the issue has not been resolved, close ProFile and proceed with the next part.
Deleting and reinstalling the PDF printer:
1. Quit ProFile and any other Intuit software. Go to Start then select Devices and Printers
2. Right click on the ProFile PDF Export printer and "Remove Device"
3. Right-click on the ProFile icon on the desktop and select "Properties". Click the button Find Target (or "Open file location" for Windows Vista) to display ProFile folder contents. Scroll up to find and open the ProFile PDF export folder Double-click the file install.exe
4. Within that same folder, you'll see a folder called Amyuni Document Conventer 450. Open that and double click the file Install.exe (This step is for Windows 8 users only).
5. You can exit out of this window, go back to Devices and Printers. Right click on the ProFile PDF Export and choose Printer Properties. Under Ports, make sure that nul is selected.
6. Restart your PC.
At this point you're ready to open ProFile again and PDF a file.