ProFile installation instructions
How to install and Activate ProFile
Updated: May 20, 2015
Article ID: INF17197
Install and activate ProFile
Whether you are a new user or a ProFile veteran, here are the steps to perform a full Install ProFile:
• Download the gpsetup.exe file – click on 'download here' and Save the file.
• Once the file is downloaded, right click and choose 'Run as administrator'.
• Restart the computer
Start ProFile. A window should prompt you to enter the license, or go to Help > License > Add new license, and enter the following information, which is found on the purchase receipt.
• Product Code: xxx-xxx
• License Key: xxxx-xxxx-xxxx-xxx
If ProFile is purchased through Web Store you can find your codes on very bottom of the receipt. See below given snapshot :

If ProFile is purchased through telephone your codes will be in Order Details section.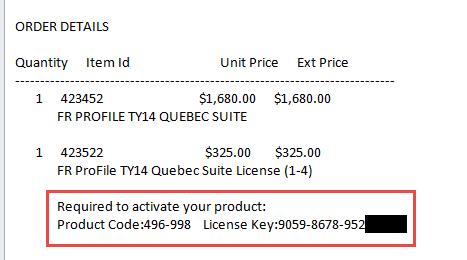 Note: If you are replacing your computer follow these steps to Deactivate your license from your old computer to free up your license. Access Codes and Licensee Name are no longer issued or required for tax year 2012 and newer product.
** Getting Invalid Combination error when trying to activate ProFile? Click Here for troubleshooting steps.
** Getting Enablement Error when trying to activate ProFile ? Click Here for troubleshoting Steps.
What is Microsoft® .NET Framework 4.0?
The Microsoft® .NET Framework 4.0 is a programming infrastructure created by Microsoft® for building, deploying, and running applications and services that use .NET technologies, such as desktop applications and Web services. As part of the installation, you might be asked to download and install the Microsoft® .NET Framework 4.0. In most cases, you will probably already have this installed and will not be asked again. The .NET Framework must be installed before you install ProFile. If you do not first install Microsoft® .NET 4.0, ProFile 2013 will not install properly.