Completing a T1 Adjustment
How to complete a T1 Adjustment in ProFile
Updated: Nov 06, 2014
Article ID: HOW14729
Using the form T1-ADJ
ProFile can automatically calculate the T1-ADJ form in the event an adjustment is required. (For the how to video, click here)
1. Open a T1 client data file that you created and filed using ProFile T1. (To retain the original tax return, go to File > Save As and save the return with a modified name.)
2. Select Audit > Snapshot/variance and click New.
3. Name the snapshot something that identifies why the return is being adjusted (for example, "Additional T3 slip") and click OK. This records amounts in key fields that ProFile will check for variance after the return is adjusted.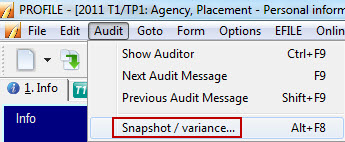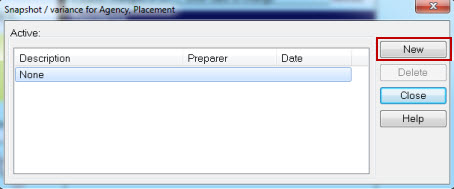 4. Go to the form or slip that requires adjustment and key in the new values.
5. Use the Form Explorer or press F4 to open a copy of the T1ADJ. ProFile allows unlimited copies of this form to be made, so additional adjustments to the return can be filed as necessary. Right-click on the form and choose New from the context-sensitive menu to create another copy.
6. Right-click on the form and select Adjust from <snapshot name> with the name of the snapshot (in the above example, there would be: "Adjust from Additional T3 slip") from the context-sensitive menu.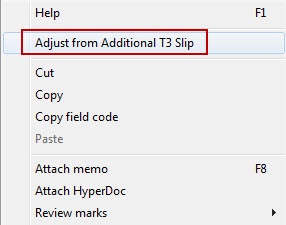 7. ProFile compares the original return to the revised data. The software automatically detects the impact on all relevant fields, and completes the table with line numbers, names and changed amounts. This only applies to fields with CRA line numbers.
8. There is a free-form area on the T1-ADJ where "Other details or explanations" can be provided. To create separate paragraphs in this section, use <Shift+Enter> to start each new paragraph.
9. Print a copy of the T1-ADJ and mail it to the CRA. There is no need to submit full return. A T1-ADJ form cannot be electrically filed.
Where to send the T1-ADJ form
Click on the Help menu.
Select ProFile Help.
Choose the Search tab.
Enter T1-ADJ in the keyword field.
Double-click T1ADJ - Adjustment Request in the topic list and select the link Where to submit your form in the right pane.